February 17, 2023
There's been a huge surge in amazing start-up businesses who are actively growing their team, we've seen senior leaders making the jump from blue-chip businesses to challengers.
If you are thinking of doing the same but unsure about what the future may hold? Bruce Alexander, ex Montezuma Chocolate Managing Director has kindly answered some of our burning questions which might help you!
What was it about Montezuma Chocolate and its proposition that tempted you to join the business?
Montezuma's was a well-established brand with a huge, loyal following on the south coast through its ethical positioning and amazing product quality. There was therefore huge untapped potential through raising awareness in a wider geographic region. Few people outside of the South East had heard of the brand but I was convinced that if we could take it further afield and they tasted the product, they would come back again and again.
You've had roles with some huge companies within FMCG with the likes of Kerry Foods, Lucozade Ribena & Nestle, what was your main motivation for moving to a challenger brand such as Montezuma?
I was really keen to get into general management and this was an incredible opportunity. Who doesn't want to run a chocolate business?!

What's the biggest differences you've found working for a blue-chip corporate business vs a Challenger brand?
With large branded businesses, they have well-established brands which provides underlying sales inertia and a reasonably constant revenue stream. The role of the commercial team is to build from an established base and if time is taken out for personal and team development, there is minimal impact on business performance. In a small business, there is minimal underlying inertia and you have to make things happen. 
Did you find that there was a big culture change working at a smaller brand and if so what's different for you now?
Transitioning from a large to small business requires low ego and high emotional intelligence but if you are prepared to listen and adapt, it is a fascinating and fabulous experience. Walking in the door on Day 1 and explaining how it works in big business is unlikely to win you many allies. If you are not happy to roll your sleeves up occasionally, small business is not for you. Ultimately, there are pros and cons of both large and small businesses, you just need to work out what's best for you based on your circumstances.
What's been the biggest challenge working for a smaller brand compared to a big brand?
Working in the sales function of a large company, I never once worried about cashflow or being paid whereas cash for an SME is their lifeblood. You need to understand the payment terms for customers and do they comply? Maintaining credit terms with suppliers is crucial because once your credit rating declines and they insist on proforma terms, the cashflow challenge only increases.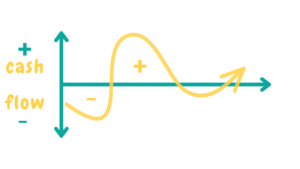 What advice would you give anyone looking to move from the corporate world to a start-up?
Large companies provide relative security in that they can often weather the various storms but your ability to make a real difference is undoubtedly diluted. If you are looking for a challenge and some adventure then SME's provide an incredible experience. It is very raw but when you are winning, you know it is down to what you and the team have achieved. There will undoubtedly be challenges along the way so problem-solving and resilience are key but the overall sense of achievement working in an SME cannot be replicated in a large corporate.
Thank you for taking the time to speak with us Bruce, it's a super exciting time for you at the moment since joining The Juice Smith, we wish you all the best in your new venture!