March 7, 2022
We spoke to the award-winning luxury British sleep brand, Brook + Wilde and asked some burning questions to get the inside scoop on the inspiration behind launching the business, some of the proudest moments and also the challenges of a start-up. Read until the end to get some great advice from Brook + Wilde's Co-Founder, Andrew Tyler if you're thinking of leaving your role to launch a business!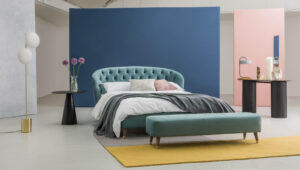 We'd love to hear more around the inspiration behind launching Brook & Wilde?
I'd previously worked for the UK biggest bed retailer, which was a really successful company run by great people. I learnt a lot there and decided to give it a go myself. It was one of those moment where you think, if I could do all this again but do it my way, how would that look.
What's been your biggest challenge since launching?
Growing too fast! Seems like a great thing to happen and we're forever grateful, but it comes with challenges. We've had to quickly evolve our supply chain, logistics and distribution. Fortunately, we've recruited well and have experts in those fields to manage demand.
What's been your proudest moment since launching?
There's been quite a few highlights – we've had some great press in the likes Vogue, GQ, Vanity Fair, and The Times. We've been voted a Great British Brand by Country & Townhouse magazine, and we've collected quite a few awards over the last couple of years.

But I'm probably most proud of the team we've assembled. I'm surrounded by fantastic people, and have an amazing business partner – all of who perform regular miracles to try and delight our customers. We are a luxury brand and the team are really behind exceeding customer expectations; both with our products and customer experience.
What's been the best part of running your own business?
For me, its the customers feedback. When our customers tell us that they love the fantastic products we produce, and that they appreciated the extra mile we go. We try to be a customer driven business, and there's nothing more rewarding than hearing positive feedback from our customers.
And lastly, what advice would you give other individuals looking to leave a role and move across to launching a start-up brand?
Understand that it will be tough, and its going to be an emotional roller coaster. If you're looking to leave a secure role to launch a start up, make sure you're comfortable with the risks involved – most start ups don't make it.
Be passionate. Pursue something you really love and enjoy – it will make work so much more enjoyable, and you'll be more successful as a consequence.
Build a team of brilliant people, and understand your weaknesses. You alone can only take a start up so far. You can be the visionary, but as the business grows you will need support and experts with different skills to your own.
Finally, have fun and enjoy the ride! Not everyone gets to experience running a start-up, and its an experience that will teach you so much about business, and yourself.