December 21, 2021
The drinks start-up brand Lockdown Liquor & Co has been on quite the journey over the past 18 months. Initially created as an added extra, to spice up a group lockdown Zoom call, Founders Natasha and Jack Durling quickly realised the potential in their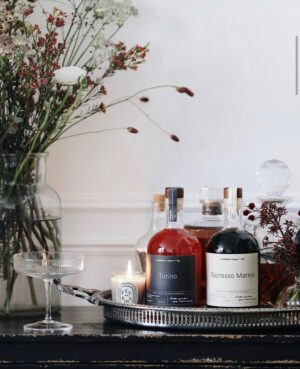 blended cocktail creations.
Looking for ways to support the NHS and COVID-19 initiatives, they decided to sell their newly created products to raise money for the NHS and pandemic related charities. Their expertly crafted mixes and unique cocktail blends are now available nationwide through D2C, hospitality and retail channels, however the business is still very much focused on offering support to pandemic related causes and has confirmed its collaboration with charitable community, Founders Pledge.
The company is going through a hugely exciting period of growth and keen to gain further insight, we were lucky enough to sit down with their Commercial Director, Mark Harris. Mark has built a successful career in the drinks industry, having held senior leadership positions at industry leading drinks brands such as Pernod Ricard, Moet Hennessy, Bacardi and Molson Coors. Who better to share insight into one of the industry's most admirable and exciting start-ups?
Thanks for taking the time to chat with us Mark! We'd love to hear more around the inspiration behind Lockdown Liquor & Co?
Lockdown Liquor & Co was founded in April 2020, by entrepreneurs Natasha and Jack Durling (Founder and Global Director of Total Management Group). The brand offers unique small-batch, premium blended cocktails. Initially started as an initiative to raise funds for NHS Charities together through the Pandemic, demand and sales were instant and organic word-of-mouth and social media recognition has seen the brand grow exponentially. Lockdown Liquor now runs its philanthropic initiative via Founders pledge.
What was is it about Lockdown Liquor & Co and it's proposition, that tempted you to join the business?
I had tried a number of pre-batched cocktails before, but Lockdown Liquor's cocktails were the first I had tried that actually tasted like a proper premium cocktail. They only use premium spirits, juices & botanicals & it makes a real difference to the quality. I also felt the timing was right. Consumer demand for premium cocktails, both in outlet & at home, was continuing to surge; however, the combined impact of Covid & Brexit meant that this demand could not be met as the market struggled with supply issues & staff shortages.
What is Lockdown Liquor & Co's strategy to differentiating themselves from their competitors, in an already saturated market place?
We have invested in developing our in-house capabilities to ensure we can maintain quality & deliver quickly. We have our own bottling line, mixology lab & production studio. This enables us to deliver a real value-add service to our customers – whether they're after one of our core blends, or looking to develop their own bespoke cocktails & labels that suit their business & customer base – Lockdown Liquor is the perfect solution.
What's the biggest differences you've found between working for a blue chip corporate business vs a challenger/start up?
The biggest difference is the speed at which things happen. I worked on a number of NPD projects during my time with large blue chip customers. The projects would start 6 months out & would involve multiple teams across a number of countries to bring a product to market. This process now happens in under a month!
Since joining Lockdown Liquor & Co, what's been your biggest challenge and proudest moment?
My biggest challenge is also linked to the biggest opportunity. It's been an incredibly challenging time to do business in the UK: Supply chain constrictions, staff shortages, managing the ongoing Covid uncertainty. All these factors drain customers time & energy & leave a small window to focus on business development ideas like premium pre-batched cocktails. That said, when we do get time to engage with customers we find we can be part of the solution to make their life easier. As ever, the challenge also poses an opportunity.
I think my proudest moment would either be our first national listing (I am a sales guy after all!) or the bespoke blends we created for ATG's new show Cabaret at the Playhouse Theatre. We delivered both by being flexible to the customer's needs, but also quick & pragmatic to deliver a solution that worked operationally.
What exciting things are on the horizon for 2022?
The pace of innovation doesn't stop at Lockdown Liquor. We'll be expanding our range of cocktails, incorporating more non-alc cocktails as well as top selling blends. We already work with a number of premium spirits brands, but we will be looking to continue these collaborations into 2022. This, coupled with the exciting pipeline of new customers that we will be on-boarding in Q1 – means it's going to be a busy start to next year!
And lastly, what advice would you give other individuals looking to leave the corporate world, and move across to a start up brand?
It's not for the faint hearted & it's definitely a roller-coaster! That said, if you want to work in a fast moving, exciting place where you can see your ideas make a real impact – it's incredibly rewarding. It may sound a bit glib, but it's also a lot of fun!
Thanks so much for your time Mark and we look forward to seeing what's in store for Lockdown Liquor & Co. next year!
Check out their Christmas range on the website linked below!